Young Talents: Gülce Baycık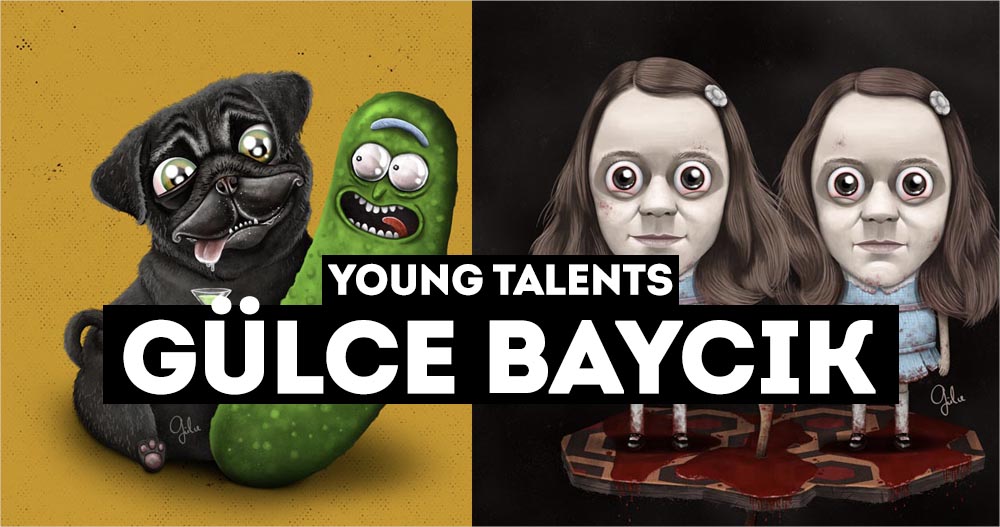 Gülce Baycık, 2012 yılında Sabancı Üniversitesi Görsel Sanatlar ve İletişim Tasarımı lisansıyla mezun oldu. Hemen ardından mesleki hayatına Tribal Worldwide ve GREY gibi reklam ajanslarında sanat yönetmenliği ve illüstratörlük yaparak devam etti. Şu anda Voden'de çalışıyor; boş vakitlerinde ise kendine has koca gözlü karakterlerle farklı konseptlerde illüstrasyon serileri hazırlıyor.
Hayatında film, dizi ve oyunların çok büyük bir yeri olan Gülce, Lil' Pop Culture serisinde de bunlardan ilham alıyor. Aşık olduğu Star Wars ise en çok karakter çizdiği film olarak başı çekiyor. Serisinde ayrıca Game of Thrones, Supernatural, Stranger Things, The Shining gibi dizi & filmlerden karakterler görebilirsiniz. Bu serisi ile ICAF (Istanbul Comics and Art Festival) dahil olmak üzere bir çok sergiye konuk olan Gülce'nin ayrıca, kendi tabiriyle, "türlü gariplikler ve saçmalıklar" çizmek de en büyük heveslerinden. Son serisi "Pug-a-Day" Pazartesi'den Cuma'ya her bir güne özel Pug'lardan oluşuyor. Bu seferki ilhamları arasında Joker, She-Ra ve Pickle Rick'i görebilirsiniz. Diğer işlerine Instagram & Behance adreslerinden ulaşabilirsiniz.
Gülce Baycık studied Visual Arts and Communication Design at Sabancı University, Istanbul. After graduating in 2012, she started her professional carreer as an Art Director & Illustrator at global advertising agencies like Tribal DDB and GREY. Now, she works full-time at Voden; while creating various illustration series with her signature -big eyed- characters in her free times.
Movies, tv-shows and games take a huge place in her life, thus inspiring her ongoing Lil' Pop Culture series. Characters from Star Wars, Game of Thrones, Supernatural, Stranger Things, the Shining can be found in this collection. She has been a part of many exhibitions including ICAF (Istanbul Comics and Art Festival) with Lil' Pop Culture. Other this project, she also loves creating "weird and absurd" concepts. Her most recent project "Pug-a-Day" includes Pugs that are characterised according to the mood of each day of the week from Monday to Friday. Here you can see inspirations from the Joker, She-Ra and Pickle Rick. You can see more works from Gülce at www.instagram.com/gulcebaycik & www.behance.net/gulce.