Young Talents: Abdullah Sarışen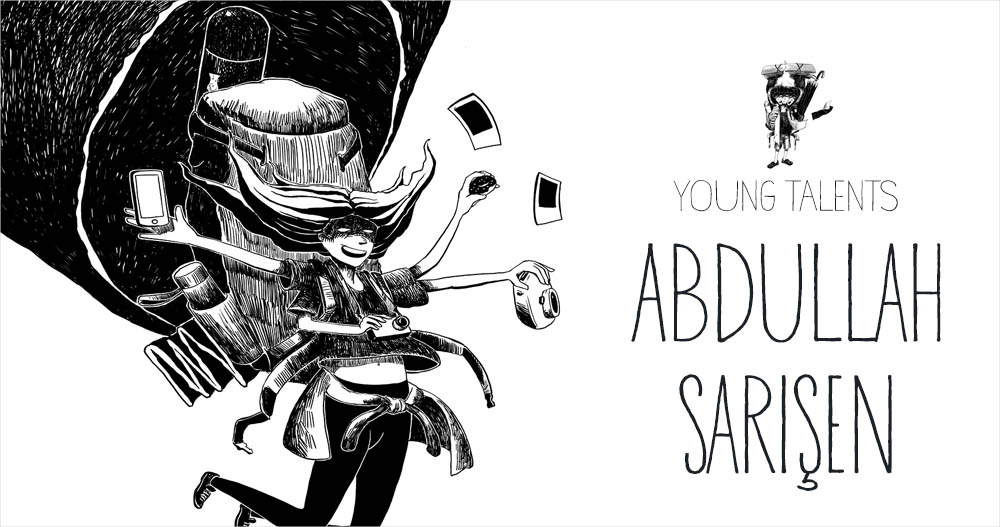 Abdullah Sarışen 1991 yılında doğdu. Marmara Üniversitesi Güzel Sanatlar Fakültesi Geleneksel Türk Sanatları Bölümüne birincilikle girdi. Lisans eğitimi boyunca Armaggan'da obje ve takı tasarımcısı olarak çalıştı. İstasyon Sanat Akademisi'nde asistan eğitmen olarak görev aldı. Bu süre zarfında BEBKA'nın (Bursa Eskişehir Bilecik Kalkınma Vakfı) düzenlediği Anadolu Animasyon Yarışmasında "İstendik" adlı çalışması ile ilk on kişi arasına kaldı. Bu yarışma ile birlikte animasyona olan ilgisini keşfetti ve Vaybee Post Prodüksiyon ajansında Jr. Motion Tasarımcı olarak işe girdi. 2016 yılında Plasenta Conversation Agency S.I.C. departmanında Sanat Yönetmeni olarak kariyerine devam eden Abdullah Sarışen, 1 yıl kadar reklam sektöründe çalıştıktan sonra Stygian Reign of The Old Ones oyununda illustratör ve animatör olarak çalıştı. 2017'de Marmara Üniversitesi Güzel Sanatlar Fakültesi Geleneksel Türk Sanatları Bölümü tezhip-minyatür alanında yüksek lisansı kazandı. Kişisel ve karma sergilerinin yanı sıra, hem yüksek lisans eğtimine hem de serbest olarak çalışmaya devam ediyor.
Born in 1991, Abdullah Sarışen enrolled in Marmara Üniversitesi Department of Traditional Turkish Arts, ranked as the first within all of the applicants. During his undergraduate education, he worked at Armaggan as the object and jewelry designer and after the graduation, he worked as assistant instructor at İstasyon Art Academy. Meanwhile he joined Anatolian Animation Contest, which was organized by BEBKA, and his work "İstendik" was short-listed for the finals. After the contest, he found out he was deeply interested in making animations, thus he started working in Vaybee Post Production company as junior motion designer. Abdullah continued his career in Plasenta Conversation Agency as art director in 2016 and at the end of his first year in advertising industry, he joined Cultic Games and worked as illustrator and animation artist for the role-playing game Stygian: Reign of the Old Ones. In 2017, he was qualified for master's degree about illumination and miniature from Marmara University, Faculty of Fine Arts, Department of Traditional Turkish Arts. He continues to work both in graduate education and freelance as well as personal and mixed exhibitions.