Young Talents: Berre İrem Doğan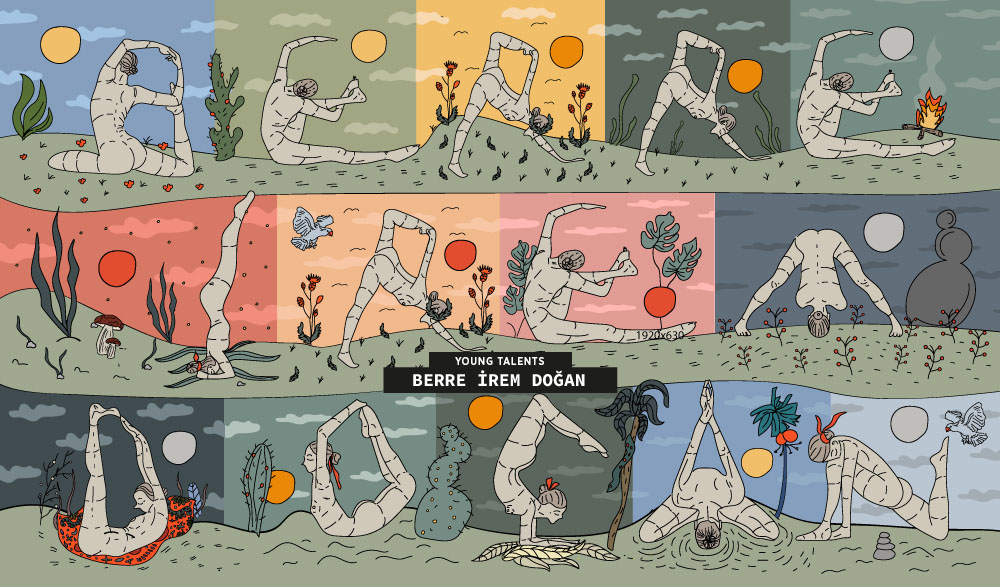 Berre İrem Doğan 24 Kasım 1997 tarihinde İstanbul'da doğdu. Sanat eğitimine Beyoğlu Anadolu Meslek Lisesi'nde Grafik, Fotoğrafçılık okuyarak başladı. Akdeniz üniversitesi Seramik bölümüne yerleşti ve bir eğitim yılının ardından bölümü terk ederek aynı üniversitede Grafik bölümünü kazandı. Böylece bölüm üçüncüsü olarak lisans eğitimini tamamlamış oldu. Üniversitede kendisini keşfetme yolunda birçok deneysel iş yaptı ve bu süreçte illüstrasyondaki yeteneğinin farkına vardı. Üniversitenin son senesinde tasarımlarında illüstrasyona ağırlık verdi. Şu an Anadolu üniversitesi web tasarım ve kodlama okumakta, Happy People Project'de Sanat Yönetmeni olarak çalışmakta ve eş zamanlı olarak illüstrasyon çalışmalarına devam etmektedir.
Berre İrem Doğan was born in 1997 in Istanbul. She started her art education by studying Graphics and Photography at Beyoğlu Anatolian High School.She settled in the Department of Ceramics at Akdeniz University and left the depertment after one academic year and won the Department of Graphics at the same university. She completed her bachelor's as the 3rd in the department. She did a lot of experimental work on his way to self-discovery at university and realized her talent in illustration. In her last year of university, she focused on illustration. She is currently studying web design and coding at Anadolu University, works as Art Director at Happy People Project and continues her illustration studies simultaneously.